Description
ATO Key Features: 
Metal Powder Production, Simplified – No more reliance on costly external atomising facilities,  take control of your own laboratory! ATO atomisers are purpose-built for efficient use in standard lab environments, without the hassle of complex infrastructures and with minimal maintenance requirements.
Accelerate Material Development – Eliminate delays, ATO ultrasonic atomisers deliver the highest quality metal powders in just one day, boosting low oxygen content, exceptional particle sphericity, and outstanding flowability.
Superior Metal Powder Quality – Swiftly manufacture high-quality metal powders characterised by a precise particle size distribution, exceptional sphericity, and uniformity. The outcome? Outstanding flowability, ensuring seamless metal printing.
 Versatile Solution – ATO atomisers are capable of processing a huge range of alloys, both reactive and non-reactive, including steel, aluminum, titanium, nickel-based alloys, and more.
Compact and Low Maintenance – Reduce costs and streamline your processes with tailor-made powders. ATO ultrasonic atomisers have a compact design, without compromised performance. ATO boasts reduced media consumption for an efficient, cost-effective approach to metal powder production.
ATO Ultrasonic Metal Atomisers 
ATO LAB PLUS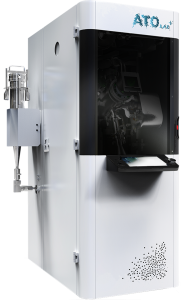 The ATO Lab Plus is a truly innovative instrument aimed at crafting top-tier metal powders, tailored for additive manufacturing. ompatible with a wide range of reactive and non-reactive  metals such as aluminum, copper, stainless steel, titanium, and an assortment of alloys, this adaptable instrument suited for numerous applications across diverse industries.
ATO Lab Plus boasts an intuitive user control with a user-oriented interface, enabling precise management of parameters. Operators can readily fine-tune these settings to attain the most desirable powder characteristics tailored to their particular requirements. It's straightforward operation makes the ATO Lab Plus a great tool for research and development, as well as large-scale industrial production. Furthermore, the system comes fitted with various safety measures, encompassing a cooling water monitoring system, automatic gas shut-off valves, and emergency stop buttons.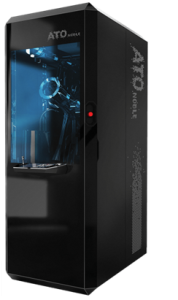 Sharing fundamental traits with the ATO Lab Plus, the ATO Noble is an ultrasonic metal powder atomiser fine-tuned for the production of precious metal powders. It caters to the demands of customers seeking a cost-effective method for atomising costly and scarce metal alloys. Thanks to its unrestricted minimum load capacity and the ease with which it can switch between materials, it guarantees cost efficiency and unparalleled control over the atomisation process.
ATO Noble has been meticulously crafted for the production of precious metals like gold, silver, platinum, and more, ensuring robust productivity of precious metals. It leverages Zero Loss Technology, drastically curbing material wastage to an absolute minimum. This feat is accomplished through a specially adapted filtration system and sealed gas circulation loop. This innovative system permits the recovery of valuable materials for reuse with a simple click of a button.
Interested in the ATO technology? Request a quote or call us on +44(0)1954 232 776 to discuss your requirements.