Solutions for Cell Disruption
Cell disruption is the process of breaking cell wall and/or membrane to release intracellular fluids containing molecules or particles of interest, such as proteins or viruses. The primary goal of cell disruption is to lyse the suspended cells and recover the maximum possible viable yield of the molecules/particles of interest.
Microfluidizer® cell disruptors are ideally suited to rupturing various cell types, including bacterial (gram positive and gram negative), yeasts, insect, mammalian (release of virus for Gene Therapy), plant and algae cells, due to the wide and controlled shear rate range they can apply to the sample. This control of the shear rate enables researchers to optimise the process parameters to achieve effective rupture rates while minimising the excess energy introduction to the system and avoiding denaturation of delicate proteins.
Microfluidizer® cell disruptors offer a number of advantages over other methods of homogenisation, including High Pressure Homogenisers. View an application note which provides an overview of cell disruption techniques and why Microfluidizer® processors are best suited for cell disruption.
Browse Solutions for Cell Disruption below; call us on +44(0)1954 232 776 or email info@analytik.co.uk to discuss your requirements with a specialist.
Cell Disruptors
The LM20 is an ideal Microfluidizer for cell disruption; digitally controlled, it has a maximum process pressure of 30,000 psi enabling it to handle the toughest cell types.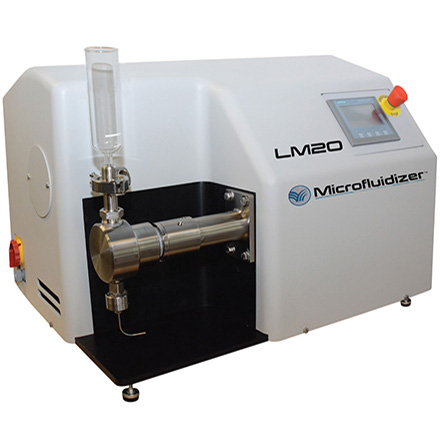 The LM10 enables extremely fast, easy and consistent processing of all cell suspensions. Digital control enables repeatability between sample batches and simple operation.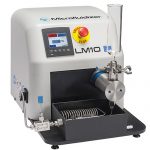 The above Microfluidizer models are the most popular for cell disruption amongst our customers' applications, however other Microfluidizers are available.
The LM20 Microfluidizer processor offers superior lysis over traditional methods of cell disruption with an efficient system to reduce internal blockages. The scalability of the design means that the forces experienced by cells will not change if the sample volume increases. I can, therefore, have confidence that the sample quality, yield and processing times won't be impacted by scaling up my lab processes.

Digital controls allow the system pressure to be set more easily and accurately compared to alternative manual processors, reducing the potential for errors and increasing reproducibility.

Analytik's in-depth user training, and easy operation/maintenance procedures have been extremely beneficial. I feel confident to troubleshoot and perform preventative maintenance without having to call the support teams – it doesn't feel like a 'black box' machine.

I would recommend the LM20 Microfluidizer as an essential tool for cell disruption.

James Wright, Protein Scientist at Abcam Plc
We approached Analytik to find a replacement for a high-pressure homogeniser from another manufacturer, which had been unreliable and failed to achieve sufficient lysis of our tough yeast cells even after very many passes. We selected the LM20 Microfluidizer not only because it efficiently lysed a broad range of cell types but also was incredibly simple and easy to use which is very important as many different people need to use the machine regularly.

We also much appreciated the knowledgeable technical and applications support provided by Analytik which has enabled us to fully exploit the considerable capabilities of the LM20 Microfluidizer.

Dr Petra Ungerer, Lab Manager, School of Biological & Chemical Sciences at Queen Mary University London
CAN'T FIND WHAT YOU'RE LOOKING FOR?