Portable Remote Sensing Spectroradiometers
Analytik are exclusive UK and Ireland suppliers of Malvern panalytical's ASD range of advanced Vis-NIR technology for precision measurement of optical radiation.
For more information, or to discuss your requirements with a product specialist, please call us on +44 (0)1954 232 776 or email info@analytik.co.uk.
FieldSpec Spectroradiometers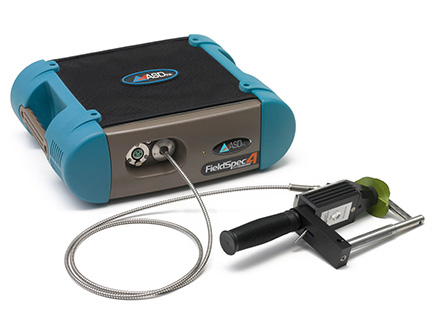 ASD's rugged, reliable, and truly portable FieldSpec spectroradiometers are rapid precision light measurement tools, developed to address the needs of R&D, production and quality assurance with superior sensitivity and spectral resolution, combined with a 0.1 second scan time to allow rapid data collection.
ASD spectroradiometers offer the added benefit of a permanently integrated fiber optic cable, essential for accurate radiometric calibration. Designed to collect radiance, irradiance, and reflectance measurements, FieldSpec spectroradiometers are ideal for any application requiring precise measurement of optical radiation.
Their ergonomic functionality and portability allows for ease of transport and simple set up at the site of measurement.  For maximum flexibility, ASD offers a wide range of sampling optics and accessories as well as a standard SMA connection:
Pistol grips
Cosine receptors
Fore optics (lensed)
RTS-3ZC Integrating Sphere
Applications include:
Laser power evaluation
Characterisation of solar simulators, photopic and spectral lamp flux
Critical measurements of laser diodes and LED components such as optical power,
colour, and goniometric measurements
FieldSpec 4
ASD's FieldSpec 4 (350-2500 nm), offers added flexibility with both wireless and Ethernet connectivity. Built to handle intense shock and vibration, as well as temperature extremes, the FieldSpec 4 now provides an unprecidented diagnostic package featuring the ASD FiberChecker. With non-slip rubber feet for integration into custom transport platforms and the improved ergonomic backpack, the FieldSpec 4 is ready for the test facility, production floor, warehouse, or just about anywhere.