Microfluidics High Pressure Homogenisers
Analytik are exclusive UK and Ireland suppliers of Microfluidics' market leading Microfluidizer® high pressure homogenisers.
Microfluidics, part of IDEX Corporation, are manufacturers of unique high pressure homogeniser fluid processors, that are the gold standard in nano-enabled applications for uniform particle size reduction, cell disruption and nano-emulsion formation.
All Microfluidics machines offer reliable, easy-to-use, repeatable performance and are backed by exceptional customer service and support from UK distributors Analytik Ltd.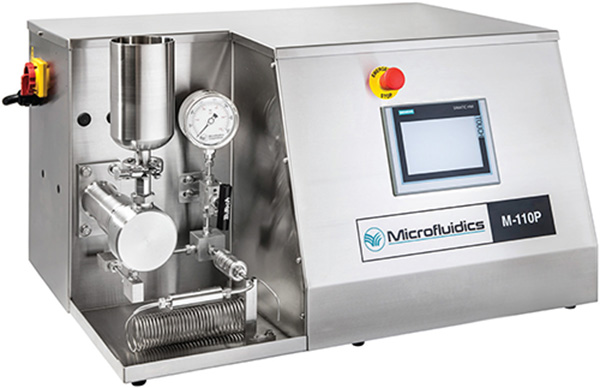 Microfluidizer Models
Microfluidics offer a range of high pressure homogenisers design to cater to their clients' varied needs.
Lab- scale Microfluidizers  are capable of working with a minimum volume of just 1 ml, whilst production equipment can handle  large scale batches suited to the highest regulatory demands. Microfluidizers are proven to be linearly scalable from the smallest scale lab machine to the largest production machine, a unique quality among comparable technologies.
Microfluidics technology and the Boston-based support team, can support your organisation every step of the way  from early-stage research, through to commercial production.
"Originally we worked with a French press and Gaulin homogenizer, but they posed contamination and equipment cleaning problems. After a demonstration here at our lab, [the Microfluidizer processor's] performance and sterilization features convinced us to get one immediately"
Stephen Cameron, Quality Assurance Manager , Microtek International
Applications
Microfluidics' range of particle size reduction solutions play a vital role worldwide, taking technologies from academic research and development, to full-scale production in a diverse range of fields. These include vaccine adjuvants, drug delivery formulations (polymer nanoparticles, liposomes, emulsions, suspensions), Biotechnology (cell disruption), exfoliation of 2D materials, and many more.
"I had been using a competitor system to perform 100-500 ml E. coli lysis for more than a year during my PhD.
When I switched over to a Microfluidizer lysis machine, the difference was night and day. Breakage efficiency was higher and instrument blockage from particulates in the lysis buffer was far less problematic. A Microfluidizer machine made processing E. coli lysates much more convenient, so I could worry about enzyme function rather than production.
Analytik took care of installing a machine that was manufactured and shipped from North America, which went smoothly. We very much enjoyed having the Analytik engineer onsite working to install and train us to use the system. "
Dr Michael Chen, co-founder and CCO, Nuclera Nucleics
About Microfluidics
Microfluidics International Corporation, the manufacturer of Microfluidizer® high shear fluid processors, is a leader in the design and production of laboratory and commercial processing equipment used in the production of micro- and nano-scale materials for pharmaceutical, biotech, chemical and diverse industries.
40 years serving customers worldwide with over 3000 machines for 2000 customers. Over 1,100 pharmaceutical companies, including 19 of the top 20, 9 of the top 10 biotech and 4 of the top 5 chemical companies own Microfluidics technology.
Since 2011, Microfluidics has been a member of the IDEX Corporation family of companies. IDEX is a global leader in highly engineered systems and components.
"The advantage of the Microfluidizer processor is that it allows us to break the E. coli fast, with minimal impact on the cell's internal compartments."
Gabrielle Heilek-Snyder, Ph.D.,   Tularik, Inc