Solutions for Water Stress in Agriculture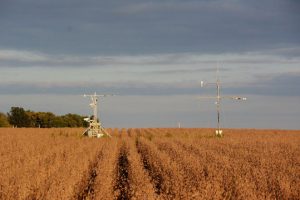 Water Stress, also known as Water Scarcity, has a huge impact on food production and therefore the agricultural industry as a whole. According to the International Water Management Institute, agriculture accounts for 70% of global water withdrawals. The need to manage the use of water with maximum efficiency is of critical priority, it is estimated that by 2050 crop production must double to meet the ever growing global population's needs.
As a result of the increasing importance of water stress management, the European Parliament have recently introduced the requirement to sustainably "produce more with less", this is in agreement with the EU research program "Horizon 2020".
In previous years remote sensing has been used successfully to obtain data around water stress; a method the American National Research Council refer to as "a management strategy that uses information technology to bring data from multiple sources to bear on decisions associated with crop production". These traditional remote sensing applications involve remote sensors being installed on towers over crop fields. However, limitations of this method include the fixed position where data is collected. These results are either an assumption on data based on the surface area covered, or require a vast multitude of towers and sensors to be installed to cover the whole of the field. Both of which are extremely expensive options in regards to the data which is gathered.
With the rise of UAV (unmanned aerial vehicle) use in agriculture, remote sensors can now be installed on drones, which allows the assessment of the water status of plants on a crop-scale. Mobile and controllable with a remote, the use of UAVs enables data for whole fields to be gathered rapidly and efficiently. The use of drones installed with hyperspectral sensors is cost effective in comparison to other data gathering methods such as hiring teams of scientists equipped with individual handheld sensors, or installing a multitude of towers with sensors. UAV usage also allows the gathering of plant physiological parameters.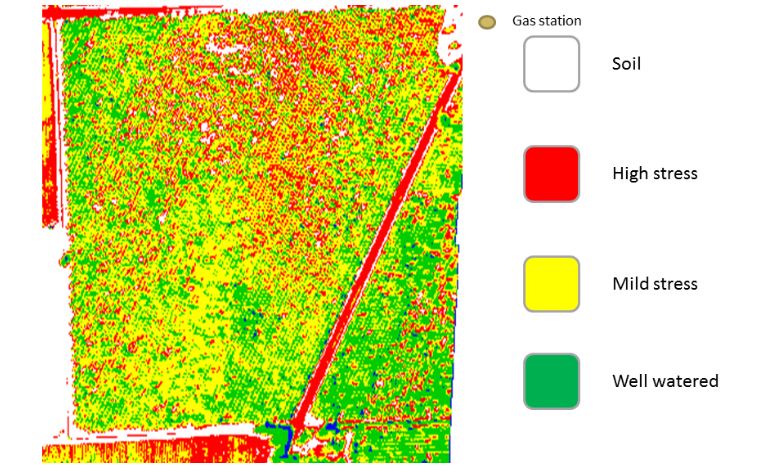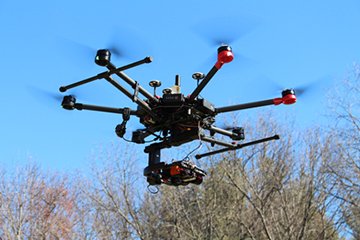 Detecting water levels in crops with hyperspectral imaging
Hyperspectral imaging sensors can be integrated with the latest UAV technology, making it easier than ever before to gain highly accurate data in-flight. This approach has proven to be more cost effective in comparison to previous aerial applications, such as satellite and aircraft implementation, while also being more accessible to those outside of government based projects and large corporations.
Key advantages of of using hyperspectral imaging for detecting water levels in crops include:
Analysis of: Crop-Water Stress Index (CWSI), Normalised Difference Vegetation Index (NDVI), Carbon/ Nitrogen ratios (CN), Leaf Area Index (LAI) and Soil Adjusted Vegetation Index (SAVI).
Generates spectral signatures of plant properties which act as "spectral fingerprints" that are unique to the plant's physiology, health and speciation.
Develops high-quality data which provides plans for optimum crop planting, watering, fertilisation and more…
To find out more about UAV integrated hyperspectral imaging solutions, click the button below.