Exploring Bioarchaeology through Stable Isotope Analysis: An Interview with the University of Nottingham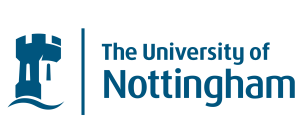 We caught up with Holly Miller, Lecturer in Archaeology at University of Nottingham to find out how researchers are currently and planning to use the ASD LabSpec4 to study stable isotope applications in bioarchaeology, specifically dietary isotopes from bone collagen.
What is your job role and/or was your role in the purchasing process?
I am a lecturer in archaeology, but my research and specialism include stable isotope applications in bioarcheology, particularly dietary isotopes from bone collagen. To purchase this equipment, I was awarded c,£700k from the AHRC CResCa fund for a project called "Building network capacity for creative and cultural responses to historic pollution and climate change research." As part of this funding, we were able to purchase new equipment that would enable future research. The LabSpec 4 will aide my future research plans.
"The team at Analytik, and in particular Hiran Vegad, has been amazing throughout our purchase of the LabSpec4 instrument. From initial conversations regarding product specifications, through ordering, setup, and subsequent inquiries, the service has been excellent: quick, thorough, knowledgeable, and above all, friendly. The training we have received so far has been brilliant, and we are looking forward to working with the Analytik team as we get to know our new instrument." Holly Miller, Lecturer at the University of Nottingham.
What challenges were you experiencing prior to purchasing our product or service? 
In terms of challenges that the LabSpec 4 will potentially help us solve; I work with bone recovered from a number of contexts that offer poor collagen preservation – primarily the eastern desert of Jordan. For my PhD it was a huge challenge to get enough data for isotope analysis, but while it is clear that sometimes the bones are well enough preserved, we did not have a good way to test or predict this.
When, where and how did you first become aware of the product?
I became aware of the produce through a recommendation by a colleague to read an article: Sponheimer, M., Ryder, C.M., Fewlass, H., Smith, E.K., Pestle, W.J. and Talamo, S., 2019. Saving old bones: a non-destructive method for bone collagen prescreening. Scientific reports, 9(1), p.13928.
What made our product or service stand out against our competitors?
Hiran discussed the product with me, knew exactly what I needed and was happy to look at specifications, all before funding was secured. He understood we required delivery in a short period when funding became available and his attention to detail, awareness of the realities of university funding and experience with the type of applications I want to run really stood out.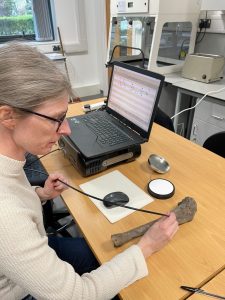 Credits: Professor Hannah O'Regan from University of Nottingham.  
How do you plan to use the product in the future?
We are still in the process of setting it up – we need to gather materials for a baseline study and that is our first big job. Then, I hope to use it to predict collagen preservation in all the samples I run in future, to save archaeological specimens from being sampled unnecessarily – it will really help with conservation, but also to help us improve our hit rates – this will save time as we will be preparing fewer samples that ultimately fail, but also money as we won't have to pay to prepare and analyse samples that ultimately fail.
My colleagues in our University aDNA labs and in other fields including ancient material sciences are also interested in learning what the LabSpec4 can do for them.
◊ Want to learn more?
Find out how Francis Crick are using the LabSpec4 for insights into human evolution and prehistory here>