Laminar's Continuous Reactor Cathode Precursor Synthesis Co-precipitation Unveiled at Faraday Conference 2023
Driving Sustainable Electrification in the UK 
Earlier this week, we were delighted to participate in the much-anticipated Faraday Institute Conference 2023. The event, which took place from September 11th to 13th in Birmingham, brought together professionals from across the country. There were great presentations, conversations and networking opportunities, as well as the chance to introduce Laminar's next generation of cathode precursor synthesis capability to the UK's top battery professionals.
The Faraday Battery Challenge 
At the heart of the UK Government's mission to usher in transformative changes in energy storage research lies the Faraday Battery Challenge. The Faraday Institution has been entrusted with a pivotal role in this endeavor, working closely with Innovative UK to spearhead substantial and impactful research projects. These projects, rooted in fundamental science and engineering, hold tremendous commercial promise and are poised to reshape the landscape of energy storage in the UK.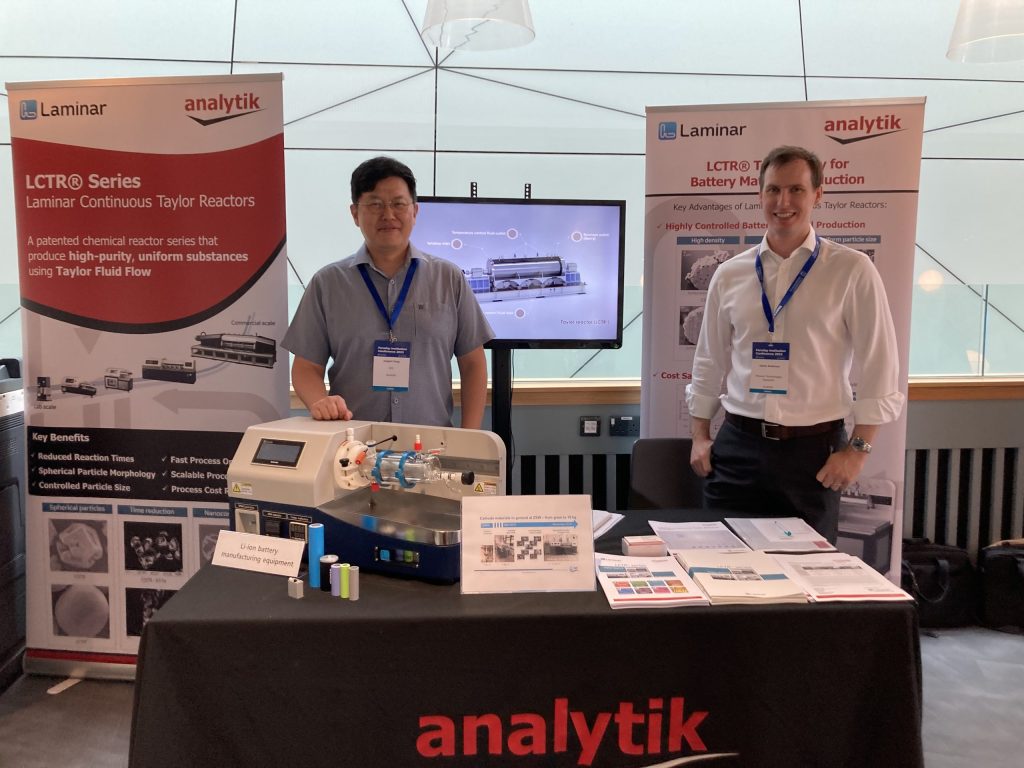 The conference revolved around several pertinent themes, each addressing a critical aspect of battery research and development. These included:
Sustainable Battery Research and Manufacturing
Creating a Thriving Battery Recycling Industry
Next-Generation Lithium-Ion Materials
The Role of Metrology in Accelerating Battery Research and Commercialization
Battery Systems – Optimizing Performance Beyond Cell Level
Towards a Sustainable Battery Supply Chain for the UK
Battery Applications and Requirements – Bridging an Academia/Industry Divide?
Beyond Lithium-Ion
Battery Characterization
Lithium-Ion Cathode Precursor Pre-synthesis Manufacturing Equipment
Our Process Technologies Specialist, James Anderson, and Laminar CEO, Jongpal Hong, were on hand to answer delegate questions throughout the event. It was great to be able to introduce Laminar's unique scalable LCTR® technology for battery material development and manufacturing.
Some key advantages of Laminar Taylor Vortex rectors over CSTRs include:
Reduced reaction times
Particle morphology
Controlled particle size
Scalable process
Fast process optimisation
About the Faraday Institution
The Faraday Institution stands as the UK's premier independent institute for electrochemical energy storage research. With a focus on skill development, market analysis, and early-stage commercialization, the institution serves as a bridge between research scientists and industry partners. Its mission revolves around reducing battery cost, weight and volume, enhancing performance and reliability, and formulating comprehensive strategies that encompass recycling and reuse.
LCTR ® – TERA 1L – R&D Level for Battery Material Development
Laminar's Tera 3100/3300 series 1 Litre reactors are ideal platforms for developing, optimising and producing various battery materials continuously at scales of up to 200g/hour. The Tera 3300 has integrated PLC control of process pumps, thermostats, simplifying operation while both variants are available with steel or Teflon coated reaction vessels.