Join Us at CMAC Open Days
CMAC Open Days are back, 14th – 16th November, join us to explore advances in pharmaceutical manufacturing, with our esteemed partner Laminar Co.
Registration is still open:
Discover the LCTR ®  Lab II-H series – for Pharmaceutical Material Development
Laminar's Lab II-H series 200ml reactor is an ideal platform for developing, optimising and producing various pharmaceutical materials continuously using commercially unique Taylor-Vortex mixing. The Lab-II-H models are available with Steel/ Hastelloy, Teflon-coated or Glass reaction vessels. Find out more>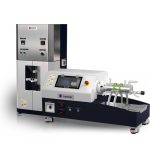 Pharmaceutical API crystallization.
Precipitation/ crystallization of inorganics compounds.
Recrystallization for high purity.
Phase transformation (Pharmaceutical) – e.g., SMZ-Sulfameraine.
Isomer separation (Petrochemical) – e.g., MFB – PMT
Sol-gel chemical method for the synthesis of various nanostructures, especially metal oxide nanoparticles.
Reduced Reaction Times – order of magnitude decreases in reaction time, depending on application.
Increased Purity – higher purity products through uniform mixing.
Particle Size – controlled particle size and distribution in crystallisation & precipitation reactions.
Scalable Process – continuous process, scalable from low-volume laboratory bench top reactors to production scale (working volume 0.02 – 1,000 litres).
Spherical Particle Morphology 
Rapid Optimisation