Introducing the Classizer® ONE – a game changer in measuring mixtures of particles in liquids in high resolution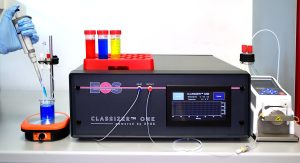 Analytik is delighted to announce the availability of Classizer™ One, a revelation in the analysis, characterisation, and counting of particulate mixes.
In partnership with Italian-based EOS (Effective Optical Systems), innovators in technological solutions for the analysis of particles in heterogeneous biological, industrial and environmental fluids, Analytik will be their exclusive distribution partner in the UK and Ireland.
For certain applications, including biomedical materials and polymer mixtures, traditional particle characterisation methods such as Dynamic Light Scattering (DLS) and Laser Diffraction (LD), have limited measurement capability. Often these methods provide only average data over the whole sample, with all particles considered the same type, just of different sizes; this can be a real limitation in many R&D and QC applications. The relatively new particle characterisation method Single Particle Extinction and Scattering (SPES) solves that problem.
SPES is an optical particle characterisation method ideal for heterogeneous suspensions; mixtures of particles and thus for (biobased) nanomaterials, where particles of the same size, but different material, can be distinguished accurately. It can also be used for biological heterogeneous liquids and mixtures of particles. The Classizer™ One enables mixtures of particles in liquids to be measured in high resolution. The instrument produces measurement "clouds" of particles that can be interpreted individually, subject to particles being in the range of 100 nm to 20 µm.
Particle composition and status can be tracked (porosity, wetting, agglomeration, aspect ratio, payload, impurities, and shelf-life) without intermediate steps, due to the characterisation of the optical make-up (including refractive index) of the particles.
The EOS Classizer™ ONE is a multi-parametric particle analysis platform based on patented SPES technology. Individual particles are characterised in a continuous liquid flow to obtain detailed information such as optical classification (effective refractive index), particle size distribution and particle number concentration – even in samples containing complex heterogeneous particle mixtures.
About EOS 
EOS (Effective Optical Systems) was founded in 2014 with the mission to develop a new generation of patented systems and technological solutions for the analysis of particles in heterogeneous biological, industrial and environmental fluids. EOS' unique solutions are the game changers for improving R&D, formulation design and process quality control in key industries including life sciences, pharmaceuticals, cosmetics, inks, food, abrasives, agrochemicals and environmental sciences. EOS is based in Milan, Italy.
For more information, please visit the EOS website: eosinstruments.com