Analytik Partners with Block Engineering to Distribute LaserWarn™: an Award winning Open-Path Chemical Detection System


Analytik is proud to announce a new partnership with Block Engineering, a renowned innovator in advanced chemical detection technologies. The partnership sees Analytik become the exclusive distributor in the UK and Ireland, allowing us to expand our spectroscopy offering to include the LaserWarn™ product.
LaserWarn™, winner of the Milipol Innovation Award for Crisis Management and the Prism Award for Environmental Monitoring, is a groundbreaking open-path chemical gas and vapor detection sensor, driven by Block Engineering's patented tunable quantum cascade laser technology. The innovative LaserWarn furnishes immediate and persistent early warning of Toxic Industrial Chemicals (TICs), Chemical Warfare Agents (CWAs), and other weaponised chemicals at hundreds of meters of standoff distance, making it suitable for both indoor and outdoor security applications.
Employing eye-safe infrared lasers, the LaserWarn™ delivers exceptional sensitivity and accuracy in detecting multiple hazardous chemicals within seconds, even in areas with multiple background chemicals.  There are no consumables required for operation and minimal maintenance or service requirements.  The LaserWarn™ comes in two versions: an indoor sensor for use in enclosed spaces or operations and an enhanced all-weather version for use in areas with variable temperatures, high incidence of dust, rain, snow, and industrial residue. Its flexible mirror configuration enables coverage to be tailored to each unique space and seamless integration into existing architecture and interior design, with system updates available in response to emerging threats.
"LaserWarn™ represents a significant advancement in chemical threat detection, offering unparalleled performance and versatility," said Hiran Vegad, Sales Director at Analytik. "We are thrilled to partner with Block Engineering to bring this technology to the UK and Ireland market, providing customers with advanced solutions to enhance their crisis management and environmental monitoring capabilities."
Key benefits and system advantages include:
Operates within the mid-infrared spectrum (7-13 microns), where targeted toxic gases exhibit spectral signatures.
Significantly enhanced sensitivity, targeting precision, and detection range when compared to contemporary infrared chemical sensors.
24/7 persistent sensor operation in interior or exterior environments.
A scalable collection of chemical threats that can be tailored to align with specific operational needs.
No consumables and limited operator maintenance required.
Eye-safe lasers permit employing in populated areas.
Detects and identifies multiple chemical threats in just four seconds.
Provides standoff detection/identification up to 300 metres range via an open-path laser-based sensor.
Limits of detection are within the ultra-low parts per million range.
Engineered to detect and identify threats in perimeter, line, and area configurations.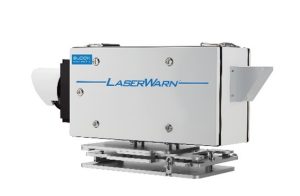 Commenting on the new partnership, Dr Steve Buckley, President at Block Engineering added, "We're very excited to be partnering with Analytik. They are well-known for delivering emerging technology and defining the future by bringing advanced analytical instrumentation to market.  Analytik is exactly the forward-thinking and customer-centric partner we need.  One fully versed in the science behind our products and committed to bringing Block's unique detection technology to the UK and Ireland.  We certainly anticipate a long and productive relationship as we move forward".
Stay tuned for further information about the LaserWarn™ system, in the meantime download the product datasheet here.
To discuss how LaserWarn™ can address your specific application needs, please contact us at info@analytik.co.uk.
About Block Engineering
Block Engineering – established in 1956 is a pioneering developer and manufacturer of quantum cascade lasers (QCLs) and mid-infrared laser-based spectrometers for a variety of sensing and metrology applications. Their technologies have revolutionised fields such as life sciences, safety and security, and industrial processes, enabling groundbreaking advancements in detection, analysis, and monitoring. In addition, Block is deeply involved various government agencies partnering in numerous research and development projects with a focus on safety, security and protection.
For more information, please visit the Block Engineering website: https://www.blockeng.com