Real-time Imaging for Effective Plant Breeding
Plant disease can have disastrous effects on plant growth, diversity and productivity. Just as in humans, plants can develop diseases from infection by pathogens which can lead to severe yield loss. To discover how bacterial pathogens invade plants, researchers at the University of Amsterdam's Swammerdam Institute of life Sciences (SILS) have developed a digital imaging system to monitor the spread and growth of bacteria in living plants.
Developed in conjunction with LemnaTec, experts in plant phenotyping and imaging solutions, Dr Harold van Burg's research group created a "phenotyper" imaging system to visually track the spread and growth of bioluminescent bacteria in plants. The high-resolution system enables researchers to understand the entry points for plant infection and track, in real time, the bacteria as it spreads throughout the plant tissue.
With this data researchers can follow the colonisation process in living plants by determining when and where the bacteria is present in the plants. The bacteria use hydathodes as entry point and hydathode colonisation can be visualised with the PhenoAIxpert ES advanced phenotyping system. The real-time tracking of the bacterial invasion in the plants is an important step in gaining new scientific insights into plant-microbe-interactions.
For such studies statistics are crucial, so researchers need high numbers of samples to compare plant genotypes, bacterial strains, or treatment groups. With the PhenoAIxpert ES, researchers can now handle more than 2,400 plants per experiment and obtain an automated and unbiased score of disease severity.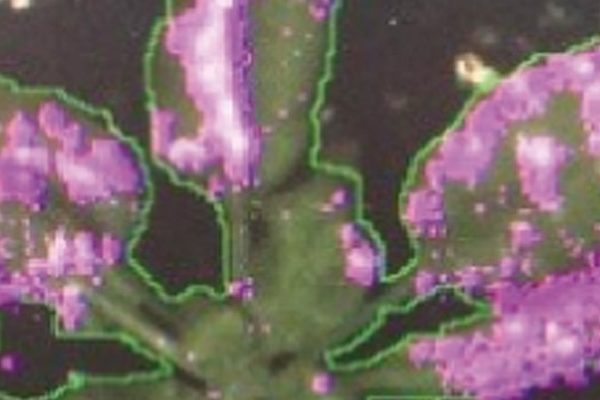 Image credit: University of Amsterdam, Swammerdam Institute for Life Sciences (SILS), Molecular Plant Pathology, Dr. H.A van den Burg.
PhenoAIxpert ES
Continuous, non-destructive, full plant bioluminescence
The PhenoAIxpert ES is an advanced imaging solution for the detection of bioluminescence. Ideal for reporting on gene activity, molecular interactions, and plant-microbe interactions, this robust, reliable technology with low vibration light shielding cabinet offers high-resolution imaging capability for samples up to 20cm in height.
Benefits
Simultaneous mapping of genetic markers – in different plant regions
Continuous time-series analysis – of colonisation processes and plant development or damage/stress (mapped onto plant images using luminescence)
Whole plant non-destructive bioluminescence analysis – in situ bioluminescence measurement with high-resolution overlapping phenotype images
Labelled biochemistry time series progression/development mapping – species specific bio-labels during normal life