Analytik reports on The A+ Group creating energy efficient workplaces using GL SPECTIS 1.0 touch smart spectrometer to retrofit LED lighting
*EDIT* Please note that Analytik no longer represents GL Optic in the UK and Ireland. To find your local distributor, please visit the manufacturer's website.

 Download Press Release
Analytik reports on The A+ Group creating energy efficient workplaces using GL SPECTIS 1.0 touch smart spectrometer to retrofit LED lighting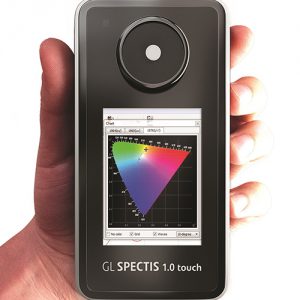 Cambridge, UK, 24th June, 2014: Analytik, leading suppliers of innovative analytical instrumentation, partner with German company, GL Optic, to supply handheld and laboratory spectrometers and integrating spheres for next generation lighting quality control and research applications. Analytik report on The A+ Group using the GL SPECTIS 1.0 touch light measuring spectrometer for workspace lighting assessment and LED retrofit projects.
The A+ Group is a UK company specialising in providing innovative energy saving solutions for business customers throughout the country. With a broad scope, they have specialist divisions working in lighting, interiors, water and facilities management. All are united by a common philosophy: the commitment to quality, and to delivering effective turnkey solutions that help their customers reach their business objectives and their carbon reduction and energy management obligations. The Advanced Power & Lighting division designs, sources and installs lighting based around the latest lighting technology from reputable manufacturers. It is an approach that helps their customers save money, with major reductions in lighting energy use and carbon footprint. A+ Group creates lighting schemes to make new and existing environments greener, more attractive and more productive workplaces.
Product Development Manager, Matthew Sherry, takes up the story. "Our Group aim is to deliver the level of service and information to support the client on every level of evaluation of possible LED retrofit solutions. Our emphasis is on not only providing the energy savings sought but also doing this with a high level of attention to the type of existing light, light levels, regulations, quality of light and, of course, the colour temperature that can have substantial impact on the decisions to be made on replacement products. We have chosen the GL SPECTIS 1.0 touch from Analytik to help us to do this in one step. It is also easily added to our standard survey process."
Describing the motivation for using the spectrometer Mr. Sherry continued. "It streamlines our process and delivers all the relevant information relating to the existing light in one simple step, the level of detail and professionalism this adds to our appearance and presentation is exceptional. Prior to adopting the GL SPECTIS 1.0 touch in our work, particularly for onsite work, we used standard light meters and survey techniques – dimensions, measurements, drawings, modelling and dialux models. Now we see the benefits from using the GL Optic spectrometer. The information we gain has previously not been available; the massive gain for us is the immediate colour temperature information – the benefit this gives us in instantly matching our LED solution is enormous. The need for trials is reduced and the perceived "change" of light for the client is also much less of a concern."
The GL SPECTIS 1.0 touch is the world's first smart spectrometer. A unique, reliable, precise and intuitively operated spectral instrument specifically designed for the measurement and characterisation of next generation light sources – especially LEDs – providing accurate photometric information, spectral distribution and colour co-ordinates conforming to CIE standards.