Analytik Partner Headwall Selected to Provide Spectral Imaging Technology for High Speed Detection of Opioid Packages
According to the White House, the abuse of opioids such as fentanyl has created a public health crisis across the United States. In 2017, approximately 50,000 Americans died from opioid overdoses. International mail has been identified as a route for illicit opiods entering the United States and is commonly transported in nearly pure, powdered form. Consequently, large scale drug trafficking can occur via small packages sent in the mail.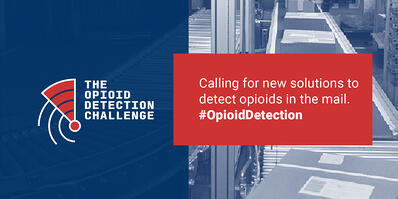 As part of the comprehensive government effort to address the crisis the US Department of Homeland Security Science and Technology Directorate, Customs and Border Protection, United States Postal Inspection Service and the Office of National Drug Control Policy created The Opioid Detection Challenge.  This is a $1.55 million competition for rapid, nonintrusive detection tools that will help find illicit opioids in international mail.
Battelle an applied science and technology development company with headquarters in Columbia, Ohio selected Headwall hyperspectral imaging technology to be part of a proposal that has been chosen as a first-stage finalist for the Opioid Detection Challenge. The Automated Multimodal Opioid Detection system by Battelle uses Headwall hyperspectral imaging sensors, as well as dual-energy radiography and machine-learning algorithms, to non-invasively detect opioids in packages without disrupting the flow of mail.
Our hyperspectral sensors offer a powerful combination of machine vision sensing, real-time processing capability, and a ruggedized design that already benefits thousands of customers around the world with instruments on the process line, on the farms, in the air, and even in space.
David Bannon, CEO Headwall

The Battelle/Headwall system now moves on to a 14-week accelerator stage, during which a deployable prototype will be developed. Finalists will then attend a testing event where their prototypes are tested and viewed by judges.
Analytik are the exclusive UK and Ireland distributor for Headwall's full range of hyperspectral imaging products and services. Please contact us should you require any further information about hyperspectral imaging sensors or spectral instrumentation.
This article is based on an original press release by Headwall. To read the original article click here.