Description
Continuous, real-time in-process Nanoparticle Size Characterisation with the NanoFlowSizer®
The NanoFlowSizer is a powerful non-invasive Process Analytical Tool allowing close monitoring of particle size characteristics in your process, in either development laboratories, pilot plants or commercial operations, without the need of sampling. The NanoFlowSizer can be integrated easily in your process by using flow-through cells allowing high speed measurements of even highly turbid nanomaterial using new Spatially Resolved Dynamic Light Scattering (SR-DLS) technology* and smart XsperGo software.
*View the Method tab to find out more.
The NanoFlowSizer provides unique opportunities for studying particle size dynamics supporting your product and process development. The system can also be operated in offline mode for manual measurements under static and flow conditions using cuvettes or other glassware.
NanoFlowSizer measurements are performed through glass preventing any direct contact or interference with the sample, which makes the technology ideally suited for continuously monitoring (sterile) processes.
The modular NanoFlowSizer system is highly flexible and customisable, so you can adapt the system to your own specific needs.
XsperGo: inhouse developed Software
Software features
The NanoFlowSizer is operated by the inhouse developed XsperGo software.
The NanoFlowSizer records spatially resolved data at high frequency in a continuous mode. The XsperGo software unravels large data amounts into meaningful particle size information. Besides particle size information other relevant information such as temperature readings and viscosity profiles are managed in XsperGo as well.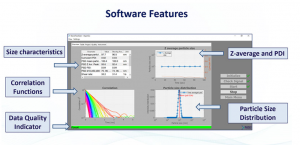 Interested in NanoFlowSizer technology? Request a quote or call us on +44(0)1954 232 776 to discuss your requirements.