Microfluidics Applications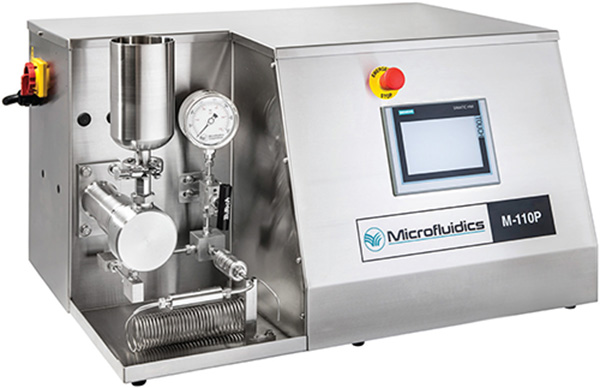 Microfluidics' innovative technology solutions are used globally by laboratories for synthesis, formulation, and production.
Microfluidics enjoy an excellent reputation amongst their customers, with robust, reliable technology backed up by excellent customer support and servicing.
View the full range of Microfluidics High Pressure Homogenisers

Microfluidics High Pressure Homogeniser Applications
Superior nanoemulsion technology yields better products
Microfluidizer® processors are capable of producing extremely small nano-emulsions, with a very small droplet sizse and narrow distribution, ideal for stability and filtration.
Microfluidics diverse product portfolio offer lab machines that can process samples as small as 2 mL and our fixed geometry Interaction Chambers ensure that the process can be scaled up to hundreds of litres per hour on the production scale machines. Microfluidizers are designed to be simple to use and clean with the option of conforming to cGMP requirements.
Exceptional performance vs other techniques
Our processors are great for the homogenization of cells because they are tough on cells and gentle on proteins. Microfluidizers® are ideally suited for effectively rupturing cells with different shear requirements — including E. coli, mammalian, plant, insect, fungi, algae and yeast cell disruption — while ensuring high protein recovery. These capabilities allow researchers to use the lowest pressure possible to reach target rupture rates while avoiding protein denaturation.
Ideal technology for producing polymer nanoparticles
The experts at Microfluidics are available to help customers develop polymeric nanoparticle applications using Microfluidizer® technology. We know how to create small, sterile, filterable nanoparticles and we can show you why a Microfluidizer® processor is your best option for manufacturing certain therapeutics.
Particle size analysis is often used to evaluate polymer nanoparticles. Utilizing specific analytical techniques, including dynamic light scattering, optical microscopy, and SEM or TEM, we have found that Microfluidizer® technology is able to reduce polymer droplet size significantly after several passes.
The best method for molecular weight reduction
Use of a Microfluidizer® high-pressure homogenizer for mechanical sizing is superior to chemical methods of molecular weight reduction. Chemical processing can modify the polysaccharide chemical structure, often resulting in highly polydisperse polymers.
A Microfluidizer® processor reduces the molecular weight without altering the chemical structure of the polysaccharide or its attached groups. Because Microfluidizer® technology exposes all the material to the same high shear conditions within the fixed-geometry interaction chamber, the final product is very homogenous with low polydispersity.
Achieving uniform target particle sizes on a nano scale
With particle sizes typically 50% smaller than those produced by conventional homogenizers and other methods of particle size reduction, a Microfluidizer® processor enables you to achieve:
Improved bioavailability
Targeted drug delivery
Easier downstream processing
Microfluidizer technology provides a competitive edge
Customers using Microfluidizer® processor technology for nanoencapsulation applications enjoy competitive differentiation for their products and processes:
Smaller particle sizes
Uniform particle size distribution
Efficient encapsulation rates
Effective cooling
Precise shear
Controlled mixing intensity of reactant streams
Ease of use, cleaning and maintenance
Scaleup guaranteed
Microfluidizer successfully processes liposomes
The Microfluidizer® processor offers an ideal solution for the production of liposomal formulations due to the following advantages:
Continuous process
Guaranteed scalability using Microfluidizer® interaction chamber technology
Optimal temperature control
Samples are processed at a constant shear rate
Highest shear rate capability of any homogenizer
Achieving successful de-agglomeration in various industries
Whether your application requires deagglomeration, dispersion, delamination, exfoliation or defibrillation and etc., Microfluidizer® processors provide an efficient solution for it.
The Microfluidizer® technology provides unmatched results by directly applying extremely uniform high shear forces to the materials
The amount of shear applied to the material is easily varied to achieve the desired result
Able to process much higher solid concentrations
Particles are typically uniformly dispersed in a single pass
Particle size distribution is reduced
No contamination
Scaleup is guaranteed

"Originally we worked with a French press and Gaulin homogenizer, but they posed contamination and equipment cleaning problems. After a demonstration here at our lab, [the Microfluidizer processor's] performance and sterilization features convinced us to get one immediately"
Stephen Cameron, Quality Assurance Manager , Microtek International
"Dr Michael Chen had been using a competitor system to perform 100-500 ml E. coli lysis for more than a year during his PhD.
When he switched over to a Microfluidizer lysis machine, the difference was night and day. Breakage efficiency was higher and instrument blockage from particulates in the lysis buffer was far less problematic."
JiahaoHuang, Co-Founder and COO Nuclera Nucleics