GL SPECTIS 1.0 Touch achieves best results from comparable test
Analytik partner GL Optic reports on how the GL SPECTIS 1.0 Touch + Flicker handheld spectrometer achieved the best results in a comparative test conducted by the United States Department of Energy (DOE).
The GL SPECTIS 1.0 Touch + Flicker combines all colour and photometric measurement functions of its sister model GL SPECTIS 1.0 Touch but also features flicker measurements. For this purpose, an additional photodiode is installed in the instrument, which can be used to measure the flicker of LED light sources. Common metrics like Mp (ASSIST), JEITA, VESA, Pst or JA10 can be measured.
Seven mobile measuring devices and one smartphone application were tested. To compare the different measuring systems, 12 light sources with different flicker characteristics were used. The systems were tested for accuracy as well as for general flicker metrics such as flicker index and flicker percentage. A further test criterion was the correct detection of the dominant frequency in the signal. Only three of the systems, including the GL device, are able to measure the SVM (Stroboscopic Visibility Measure) sensitivity curve.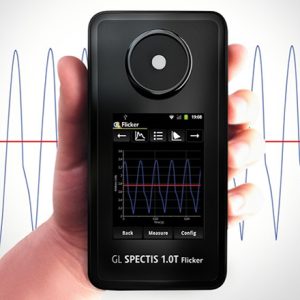 During the test, the GL SPECTIS 1.0 Touch + Flicker achieved an excellent overall result and  achieved the best compatibility with the reference instrument, not only in terms of measurement precision and the metrics tested, but also in terms of the accuracy of frequency recognition.
View the full report here.
GL SPECTIS 1.0 TOUCH + FLICKER
The GL SPECTIS 1.0 T Flicker is an updated version of the world's first smart spectrometer GL SPECTIS 1.0 Touch, that is now also capable of measuring illumination, colour and the optical flicker of light installation at the same time.
This unparallellesd device is a reliable and versatile device for accurate absolute spectral measurement and now equipped with additional electronics and fast photodiode to measure flicker frequency, flicker index and flicker ratio.
GL Optic manufactures high-quality, professional light measurement systems.