Analytik welcomes its new Marketing Administrator
Cambridge, UK, 18th June 2019: Analytik, leading suppliers of innovative analytical instrumentation, welcomes its new Marketing Administrator.
Analytik is delighted to announce that Katie Young has recently become Marketing Administrator at Analytik Ltd. In recent years, Katie has run her own company offering an inventory service to the lettings industry, which allowed her to combine flexible working hours alongside time with her family.
Katie started her career with an International Business Studies Degree from the University of Brighton and a Diploma from the Chartered Institute of Marketing. Post university Katie gained experience with a direct marketing agency, EWA, based in Chelmsford followed by a career with Rothmans where she was selected for their graduate training scheme. The graduate training scheme was an opportunity to gain experience in all disciplines of sales and marketing and Katie was promoted to Trade Marketing Manager at Rothmans by the end of the programme.
Katie's career progressed to Cereal Partners (UK) in Welwyn Garden City where she worked as their Category Manager securing product placement and visibility for Nestle Cereals in the major grocery sector. This involvement with the major grocery retailers led Katie to pursue a role as a National Account Manager with Deans Foods, now Noble Foods Ltd. Managing customers such as Sainsbury's, Asda and Tesco's enabled Katie to gain a wealth of experience in sales, customer service and various marketing campaigns.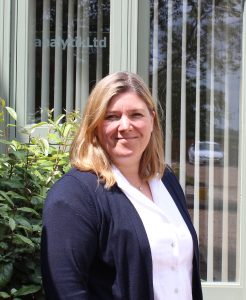 Speaking about her new role at Analytik, Katie says "Following a few years predominantly focussed on my family, it is great to join Analytik and be able to utilise the sales and marketing knowledge gained in my earlier career. Analytik are a customer focussed organisation and this has always been important throughout my career and hopefully something I am able to add value to."
Katie will provide marketing and additional business administration support to Analytik, fulfilling customer orders and liaising with our supply partners.
Karina Davies, Analytik's Marketing Executive, adds "We're pleased to have Katie on board with us. With ambitious plans and a number of exciting opportunities in development, her skills and experience will be a valuable asset to the marketing team".